8 Security Tools That Recovers Hacked Website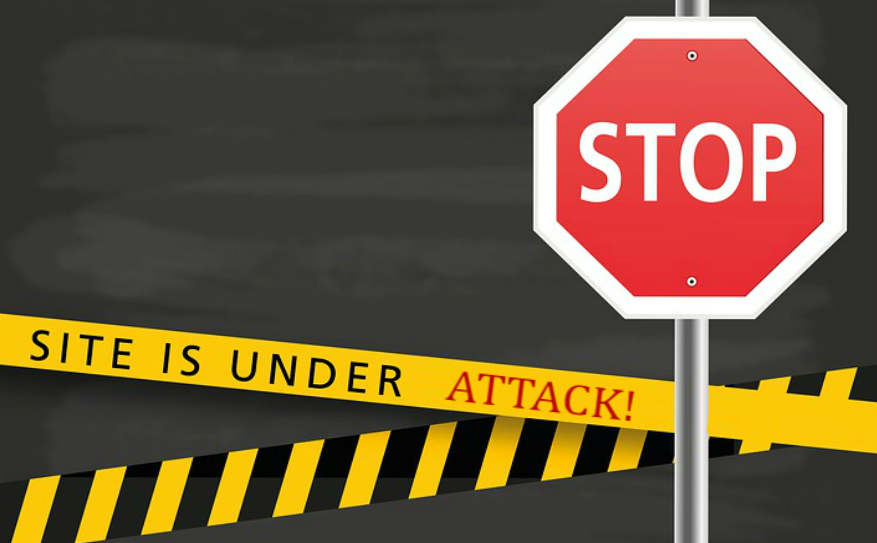 Since the advent of online businesses, websites on which these businesses are conducted have been the target of hackers. The situation only worsened when various Content Management Systems CMS(s) – like WordPress, Drupal, Joomla etc., – entered the scene promising that they'll help out these businesses create websites easily using only a few mouse clicks.
Yes, Content Management Systems (CMS) have made website creation easier. But they've also provided hackers with many different ways to exploit such easily created websites. To give an example, WordPress Plugins have become a constant source of target among the hacking community. A recently conducted survey revealed that more than 50 thousand websites get hacked every day. That's a huge number! And an alarming sign for e-businesses.
How Can Hacked Websites Be Fixed Or Cleaned?
To clean hacked websites and to ensure website security in general, businesses can make use of website monitoring software. Also known as website vulnerability scanning tools, they can be used to scan websites for malware or any such suspicious activity. If such activity is detected, these tools will take the appropriate security measures needed in order to remove the discovered malware.
Here is a list of 8 website protection tools e-businesses can use to ensure their websites stay safe from hacking and don't end up facing business loss and loss of reputation.
1.CWatch:
This website security tool from Comodo (the makers of SSL Certificates and several other cybersecurity solutions) can be pretty useful for securing business websites against cyber attacks. Available in 4 different plans (Starter, Pro, Premium, and Enterprise) and is one of the few PCI compliant website scanning tools available in the market, it can be used by small-to-medium businesses as well as large enterprises alike.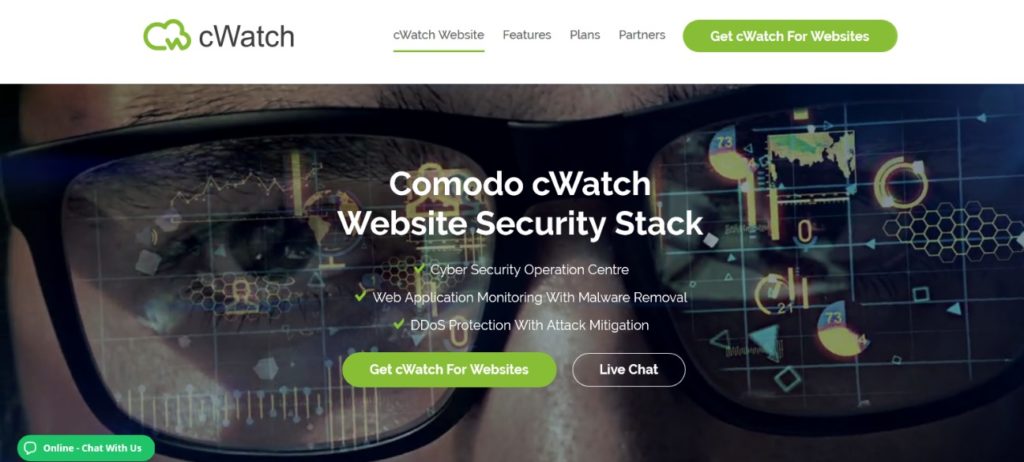 Features:
▪Superior Threat Investigation Capabilities
▪CDN (Content Delivery Network) which ensures high website availability and performance
▪Efficient SIEM (Security Information and Event Management) System
▪24/7 Website Monitoring Capability
▪Dedicated Cyber Security Operations Center for Handling Security Incidents
2.Sucuri:
Sucuri is another popular web security tool using which you can clean hacked websites. Founded in 2010, Sucuri has made good progress in the past few years and therefore is a very reliable tool.
Features:
▪Remote Malware Scanning
▪File Integrity Monitoring
▪Website Blacklisting
▪Post-Hack Security Actions
3.Wordfence:
This security tool is actually a WordPress Plugin which is currently protecting about 1 million active WordPress powered websites. Obviously, it can help you clean and restore WordPress websites pretty quickly.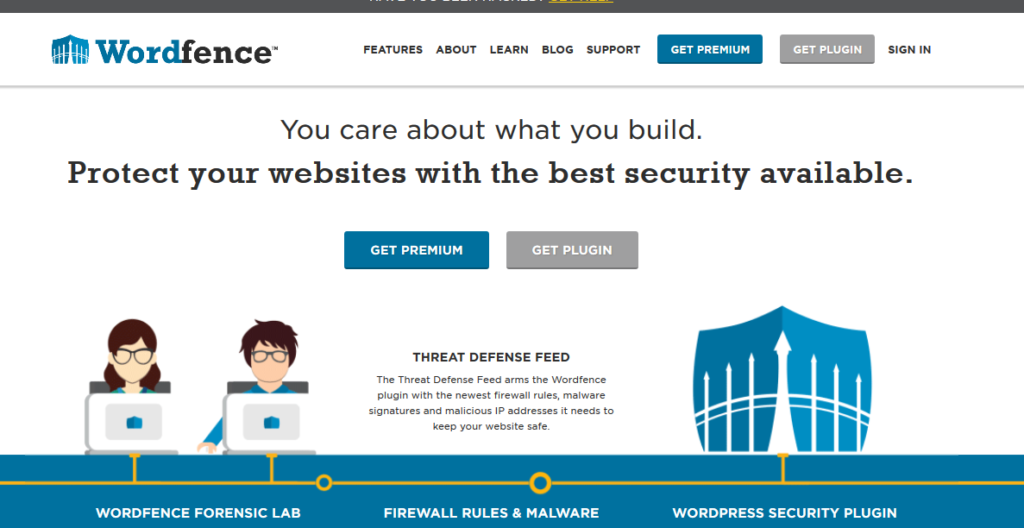 Features:
▪Detailed report of the investigation and removal
▪Actionable checklist for future attacks prevention
▪Clean and restore the affected website
▪Investigation how attackers got into your website
▪Wordfence Premium license for one year (worth $99)
4.SiteGuarding:
Enterprises which are specifically looking for website malware removal from WordPress or Joomla powered websites can make use of this web security tool because it can supposedly clean affected websites within 1-3 hours.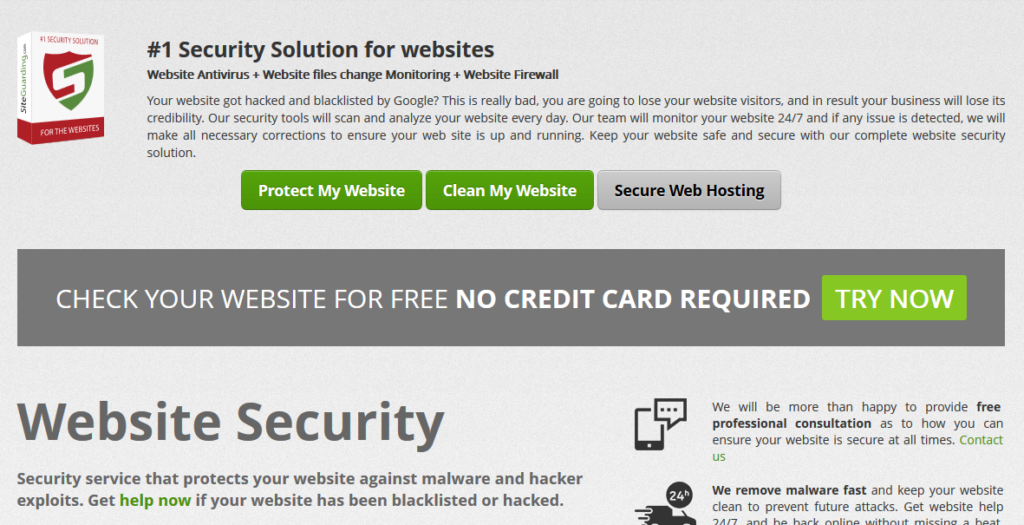 Features:
▪Core file checks
▪Backdoor Removal
▪SQL/XSS Prevention
▪Website Back and Log Analyze
▪Website Acceleration
5.StopTheHacker:
Based in San Francisco, California, this web monitoring software has won multiple awards since 2009 and is one of the tech industry's most respected leaders. Another tool enterprises can use to protect their websites.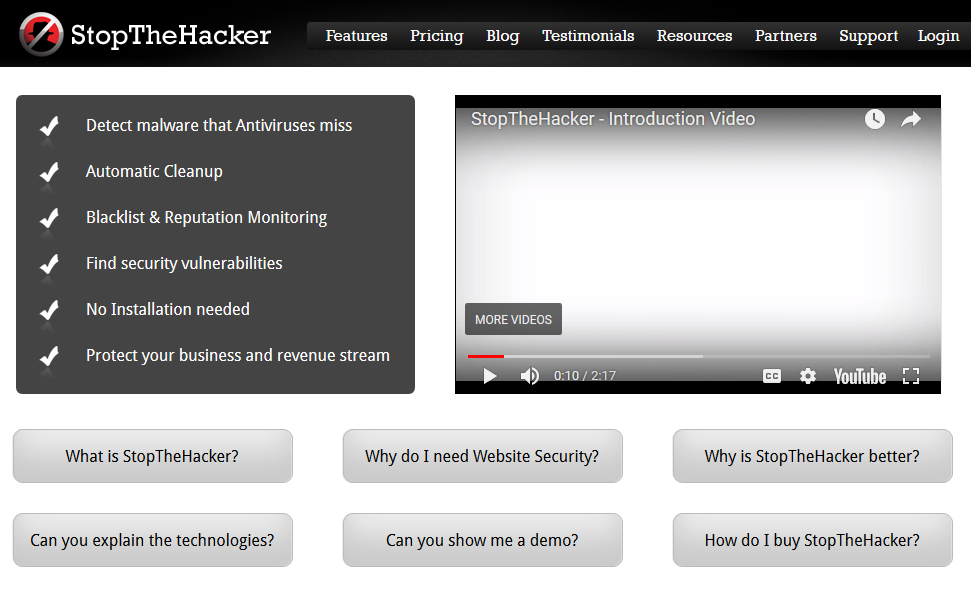 Features:
▪Blacklist/reputation monitoring
▪Malware/virus scanning
▪.htaccess file detection
▪Malicious Code Detection
6.Web Malware Removal:
Another tool businesses can make use of to protect their websites from cyber attacks. With web malware removal, you can get free website monitoring for one year and protection against SQLi/XSS/Brute Force attacks.
Features:
▪Protection against malware and backdoors
▪24/7 website monitoring
▪Good Threat Investigation Capability
▪Free website cleanup, if you're website, is hacked again within 4 weeks of cleaning
7.SiteLock:
Having been around since 2008 and credited with protecting nearly 12 million websites worldwide, SiteLock is a hot favorite among enterprises when it comes to website security.
Features:
▪Website Acceleration
▪Web Application Firewall
▪Automatic Detection and Remediation
▪DD0S Protection
8.Virusdie:
This web security tool can be bought for as low as 4.9$ a month. Its flexible plan can suit businesses of all sizes, be it small, medium or large. It has been around since 2012 and has won the hearts of many enterprises.
Features:
▪24/7 Website Monitoring
▪Good Inspection Capabilities
▪DD0S Protection
▪Website Acceleration