Beware of Fake Samsung Firmware Update App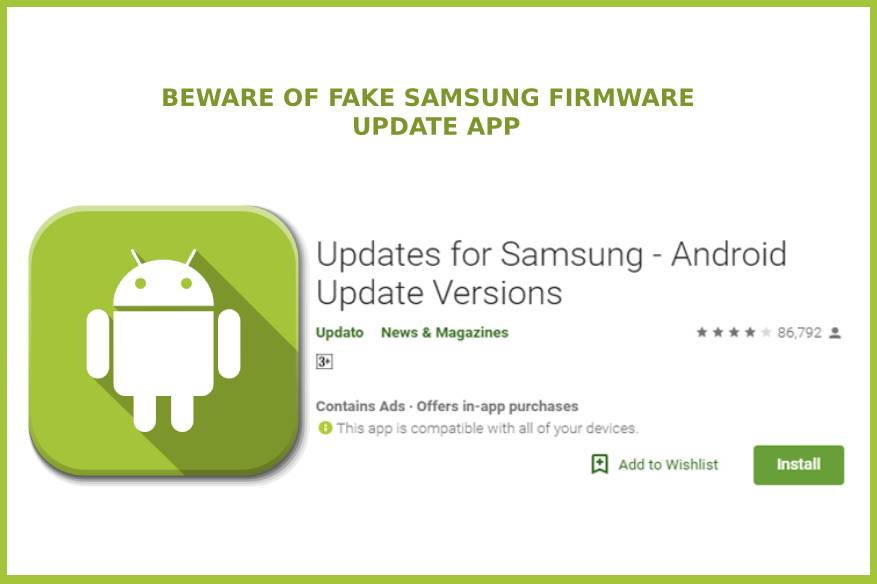 Are you a Samsung smartphone user? Then this news item is for you; we recommend to only accept official updates for your Samsung Device using the official Kies app or the over-the-air update build-in with in Android. At the time of this writing, a fake app in Google Play Store named "Updates for Samsung" is still online, enjoys a 4.0 stars user rating and already downloaded 10-million times. Never download it, never believe its claim of being: "Download any OS update for any Samsung device ever released, read the latest Android™ tech news and access the latest firmware upgrades."
Samsung devices can only accept actual updates through 3 sources:
Samsung Kies desktop app, which can be downloaded from its official webpage.
Over-the-air update where the new Android build is officially streamed to the device live from Samsung update servers.
Unofficially through custom-roms downloaded from xda-developers.com.
Updates for Samsung is nothing but an adware app, disguised and claims for being an official app for updating Samsung-branded Android device. However, such app cannot perform the flashing of new Android ROM, given such capability can only be established by a root-level app. By default, new Samsung devices have locked bootloaders and can only be flashed using Samsung official upgrade tool as mentioned above.
The existence of the fake Update for Samsung app was first reported by a CSIS Security Group security researcher named Aleksejs Kuprins in a blog post. He detailed that the app is nothing but a privacy-invasive app designed to generate for-profit adverts for the thread author, while it claims to be an app that can upgrade a Samsung device's firmware. It offers firmware "downloads" locked behind a paywall, hence the app author can increase the profitability of his app.
"A user can search for their specific firmware in the "Download Firmware" section of the app. Besides being stuffed with advertisement frameworks and not being affiliated with Samsung (yet distributing their firmware), the app offers paid subscriptions for the downloads of the said firmware. A user can get an annual subscription for Samsung firmware update downloads for a small fee of $34.99," explained Kuprins.
The app does not use the official Google Play facility in collecting payments, but rather a custom credit card-based shopping system was developed to facilitate the payment. All proceeds go to updato.com domain using an encrypted transaction system built-in to the app. In order to mask the app's fake nature, the author of the app limited the download speed of the "firmware download" to just 56kbps. This dial-up speed is designed to "discourage" the user to fully download the claimed Android update as a 700MB firmware file will take half a day to download under 56kbps.
"Furthermore, as a number of app reviewers have indicated, — the download is also almost doomed to timeout and fail, hence "motivating" the user to pay for "Fast downloads through paid premium packages". During our tests, we too have observed that the downloads don't finish, even when using a reliable network. Last but not least, the app claims to offer SIM card unlocking for any network operator, starting at $19.99. Also not via GooglePlay subscription," concluded Kuprins.