How to Identify and Combat Trojans on Unauthorized Financial Apps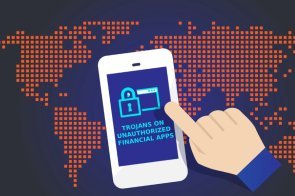 Trojans, as we know, are malicious computers programs that infect devices/systems by mimicking genuine software and then going on to extract data from the system/device. Trojans that mimic banking applications are on the rise these days. Posing as genuine banking apps, these Trojans make bank customers give out sensitive personal info, including login credentials, card details etc.
When you're using official apps that are downloaded from the official app stores- Google Play Story, Apple Play Store etc- you're relatively safe, but it's not the same when the apps are downloaded from third-party application stores. Using third-party apps, some of which may even be Trojans. might cause all your banking-related data to end up in the hands of cyber criminals, who may either misuse the data themselves or sell them off to others.
How these Trojans work…
The Trojans might appear on your device in different forms; they may appear as emergency updates in your third-party app stores or via the malicious links that you click on. The Trojans can then target the banking apps or any payment apps that you use, along with other social media apps as well. Finally, when you open one of these apps, the screen will get overlaid with a fake screen, almost identical to the original screen of the app. Then, as you type in your login credentials, the Trojan would capture it and then display an error message on the screen. The Trojan will then start using your login credentials on its own or pass on the credentials to the creators of the Trojan. Hackers even sell off the stolen data and earn big money. There are many criminals who'd pay to buy such stolen data, which they can misuse, especially to carry out some illegal activities.
How to identify Trojans
Well, when you're repeatedly asked for your credit card details and the screen won't go away unless you put in some details, it's most likely a malware, a Trojan.
It should be remembered that virus screens are sticky, difficult to remove. They'd keep popping up and won't have proper exit/back options. Moreover, when an app that you use asks unusual details, it's also indicative of Trojan infection.
How to protect yourself from Trojans
The best thing to do would be to avoid using any kind of unauthorized applications. Many people tend to use applications from third-party stores just because they are offered many free apps. But such free apps might come with infections and you might end up having a Trojan that would try to steal all your personal data. So, the best policy would be to always download or purchase apps from the authorized app stores, like the Google Play Store or the Apple Play Store.
While installing an app, always check the permissions and find if they are seeking permissions that are not at all required for the functioning of the app.
It's also crucial that you do no share sensitive personal data randomly online. Share your data only when you're sure that you're doing so at the right place. Re-assure yourself of the authenticity of the app or the website where you are sharing your personal data.
Never click on links that make unrealistic offers, especially those links that come seeking you via SMS, Email or Whatsapp.
Related Resources: