Firefox Monitor, Security Breach Email Checker Released to the Public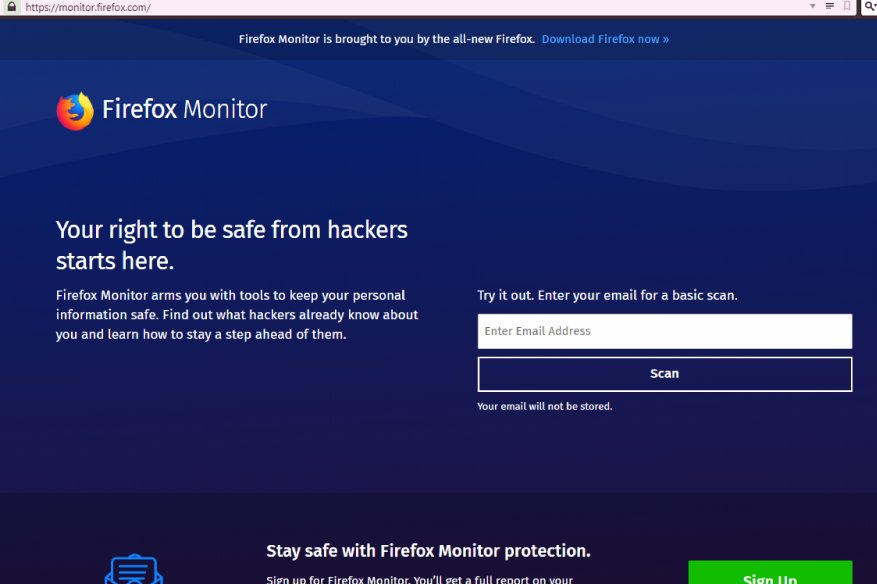 Mozilla, for many decades is working hard in order to regularly deliver to us a security-conscious browser we all know and love. However, there are times that Mozilla offers snippets of freebies, which highlights the non-profit company's goal of helping secure the Internet world. Mozilla has released Firefox Monitor, which everyone can try by visiting https://monitor.firefox.com.
The site features a simple interface, where the users can enter their email address. Mozilla's database will then be scanned for the email address, and gives the user vital feedback if their email account was part of a previous security breach. "It can be hard to keep track of when your information has been stolen, so we're going to help by launching Firefox Monitor, a free service that notifies people when they've been part of a data breach. After testing this summer, the results and positive attention gave us the confidence we needed to know this was a feature we wanted to give to all of our users," explained Nick Nguyen, Mozilla's VP for Firefox.
This project has been made possible with Mozilla's strong partnership with Troy Hunt's "Have I been Pwned" initiative. For many years, Have I been Pwned has helped users by maintaining a database that records and displays user information such as email that were part of breached data that were archived for such purpose.
If a user's email has been flagged as part of a data breach, users are urged to change their password at the soonest and recommend to the user to use a two-factor authentication which is a typical feature in any web-based email today. For emails that had no history of being part of a security breach, Firefox Monitor page will say: "Your account did not appear in our basic scan. That's good news, but data breaches can happen any time and there is still more you can do. Subscribe to Firefox Monitor for a full report, alerts when new breaches happen, and tips on protecting your passwords."
The following tips were given by Mozilla in the Firefox Monitor page (direct quotes), in order to educate users about online security:
Use a Different Password for Every Account
You can't prevent a data breach, but you can limit your exposure by always using different passwords for different websites.
Create Strong Passwords
Hackers try to steal passwords by using lists of common passwords and by guessing. The longer and more random your password is, the harder it will be to steal.
Treat Security Questions Like Extra Passwords
Websites don't check that your answers are accurate, just that they match every time. So create long, random answers and store them somewhere safe.
Use a Password Manager
Password managers like 1Password, LastPass, or Dashlane can generate strong passwords for you, remember them for you, and fill them into websites so you don't have to type them in.
Use Two-Factor Authentication
2FA offers an extra layer of protection by requiring you to enter additional information (like a code sent via text) before you can access your accounts.
Sign Up for Alerts From Firefox Monitor
We'll let you know if your account information is compromised in a data breach or exposed to hackers in some other way.