Best 4 Apps to Spy on Your Boyfriend's Phone Without the Target Phone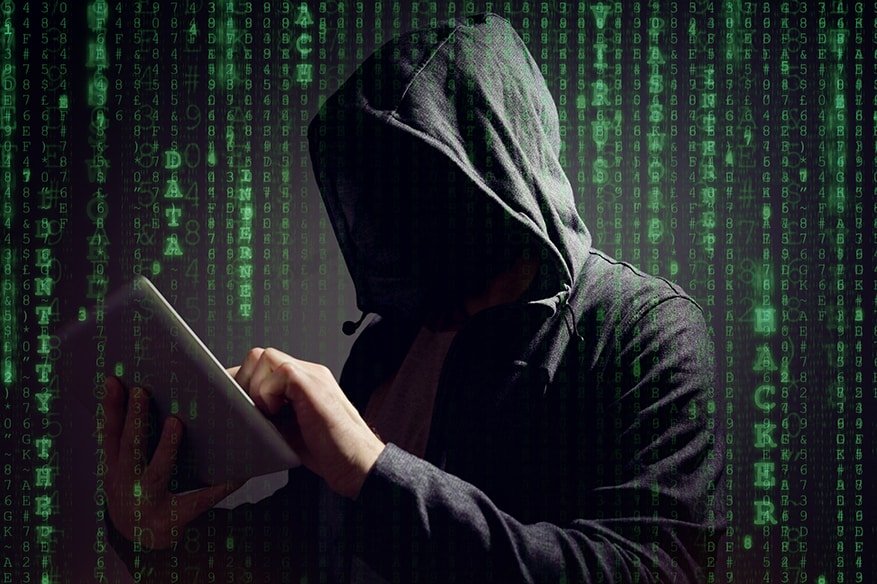 If you think your boyfriend might be cheating on you, or you need to check who he is talking to when you are not around, you can use different programs to spy on his phone. The problem arises when you cannot access his phone but still need to spy. Well, there are some apps that you can use to spy on him without having his phone with you all the time.
Cocospy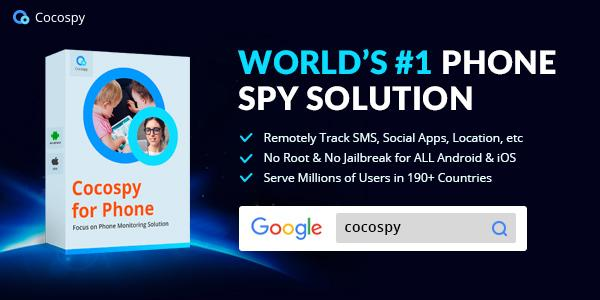 If you want to spy on a phone without accessing it, you can use Cocospy, as it is quite a user-friendly app for tracking someone's phone. A distinctive feature of this app is that it works for Android and iOS. It has more than 35 tracking features, giving you the liberty to track your boyfriend's location and messages on social media apps and emails. 
Cocospy is an excellent option since it does not require jailbreaking. Even as a novice about tech and phone apps, you can learn how to use the app easily. The icon will disappear as soon as you install the app, so no one will know that you have installed the app on your phone. To spy on your boyfriend, you will need his iCloud information. That is all! This app will track the other person's phone without any interference in their activity, so they will not be able to detect that their phone is being tracked. You will know everything from the person's usernames and passwords to their contact names. 
Android users will need access to the target's phone for just 5 seconds. The app is 2MB and will be quickly installed on the target's phone. After setting up the account login, you do not need the target's phone. You can track them using your phone. The icon for the downloaded app will disappear from their phone, and they will never know that an app exists in the first place. No root is required, so this app makes spying a breeze even if you are not a tech expert.
Features 
Works legitimately

Does not bring any virus to your device 

It is compatible with iOS and Android

Does not leave any trace on the target's phone 

Has affordable payment plans 
How to track a phone?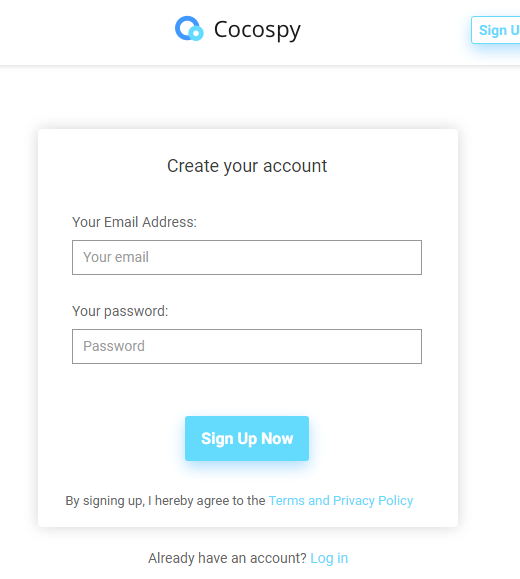 The first step to spy on the phone without accessing it is downloading the Cocospy app and making an account.
Secondly, you need to set up the app on the target device. You will need to access the phone and download the app for Android devices. For Apple phones, you need to enter the iCloud credentials.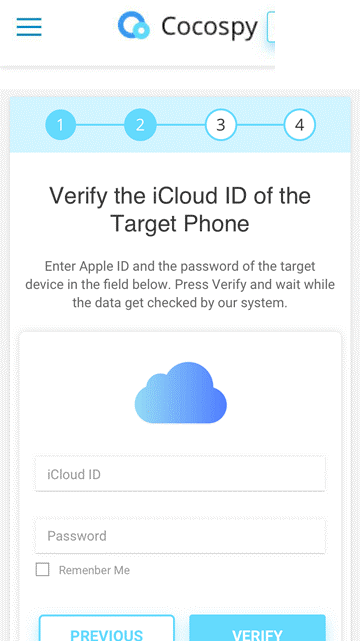 Follow all the instructions on the screen and finish the installation. After that, log in to your account, and it redirects to the dashboard. Find the SIM card on the left side of the screen and click on it. Also, you will see multiple options on the left panel. You can check everything from here, such as social apps, video previews, photos, messages, contacts and much more.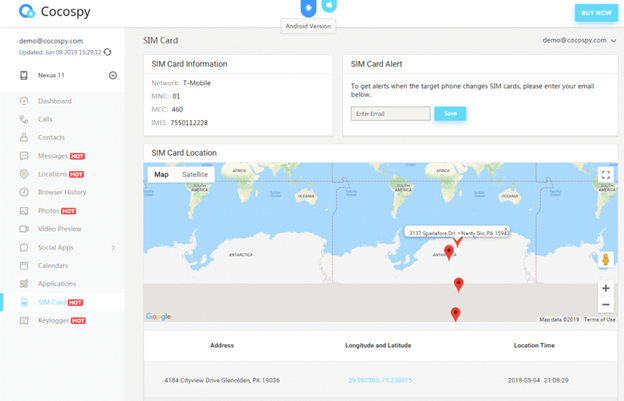 Spyic 
Spyic is also a powerful spying app that lets you see almost everything the other person does on their phone. You can look through their phonebook and see who is on the contact list. Also, you can read their Whatsapp messages and see the media shared between the two parties. This app also gives you access to browser history and call logs.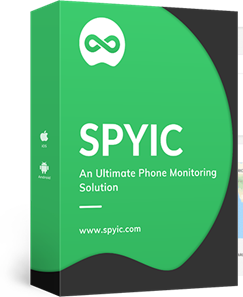 You can see all the apps your boyfriend has installed on his phone. Moreover, you can see the audios, media files and pictures he sends on any app. To track his location, you can see his current location in real-time. 
Since Spyic is an advanced app, it also has additional features like Keylogger. This feature lets you see every keystroke that is being made on the other person's phone. This comes in handy when extracting passwords of different social media accounts. 
Hoverwatch 
Hoverwatch is another spying app that lets you see whatever your boyfriend is doing without letting him know that you are tracking his activities. All you have to do is log in to your account and then browse for his actions. It is a legal app, so you will not come under any threat from malware or viruses.
It has been made to monitor what your kids are doing on the Internet or oversee your employees' activities. However, you can also use it to spy on your boyfriend. Using this app, you can check the call logs, text messages and social media apps. 
You can check everything, even the calendar notes and the browser search history. You can also check the To-do list on their phone if you have any suspicions. The app has plenty of features, but if you want to access more features, you can jailbreak the app. If the user changes his SIM card, you will be notified about that too.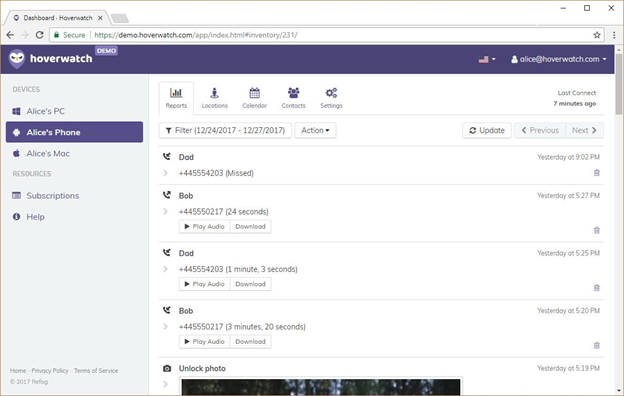 The shortcoming of this app is that it only tracks a few social media apps, such as Viber, Whatsapp, Snapchat and Facebook. Furthermore, customer support could be more helpful so you will need clarification in some situations. You should opt for the previous options if you need an app that does not require jailbreaking. 
Features
Allows you to track calls and contacts

Notifies you when the user changes his SIM card

It can be used for kids, spouses and employee monitoring 
Spy Bubble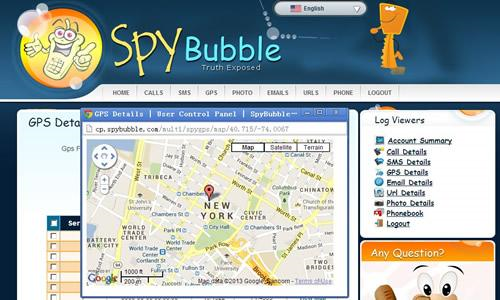 This app is compatible with Android and allows you to track anyone's phone secretly. They will not know that you are spying on their social media or phone activities. This app lets you see the person's location status too. 
More importantly, you can check their call history and text messages. You can also go through their emails, phonebook and photos. However, some things could be improved in this app. First of all, there is no option to check someone's calendar. Secondly, the interface is not user-friendly, so you will have to get used to different possibilities. When you try to access the call logs, you will only see the phone number and not that contact's name. 
Features:
Comes with a 14-day money-back guarantee

Allows you to check call history and SMS

Gives you access to the other person's location
Conclusion 
Therefore, you have plenty of options for spying on your boyfriend's phone without him having a clue about it. If you are worried that he is cheating on you or talking or involved in anything unpleasant behind your back, you can catch him using an app of your choice. Just choose the app that suits you best and track his every movement.