Ten Best Network Scanning Tools for Network Security
Network security, in today's world, needs no introduction or explanation. We all know that the term network security refers to the securing of any computer network, aiming to prevent anyone from accessing, manipulating or misusing the network in any way. Thus, we have rules, policies and instructions that pertain to the monitoring and securing of computer networks.
Network scanning, which is integral to the process of maintaining and ensuring network security, refers to the process of detecting and identifying network vulnerabilities and loopholes so as to prevent others from accessing or monitoring a network in an unauthorized way. There are scores of network vulnerability scanning tools available in the market today, some free and some paid. These come with a variety of features. Let's review ten best network scanning tools, highlighting the features that make them stand apart from the rest of them…
HackerCombat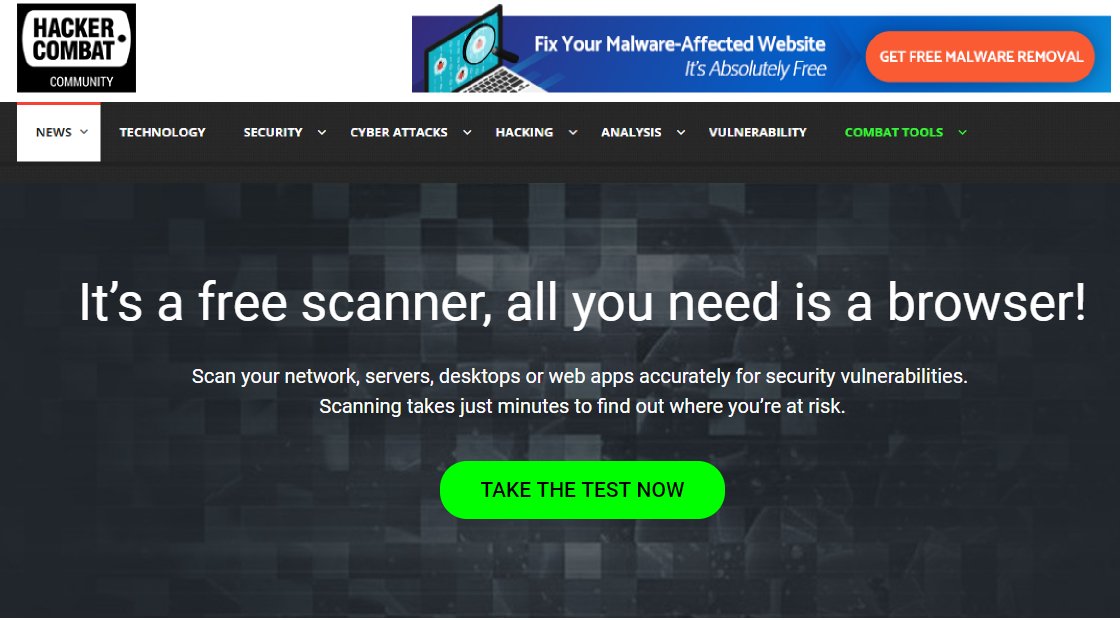 The notable features-
•Uses Advanced Threat Protection, the cloud-based filtering service that gives protection from unknown malware, robust zero-day protection and protection from harmful links, in real time.
•Scans perimeter networks for vulnerabilities and threats.
•Checks for all kinds of network security misconfigurations.
•Detects issues like badly configured Proxy servers, weak passwords, weak SNMP community strings, TLS/SSL ciphers etc.
•Detects anonymous FTP access, DNS zone transfer, DNS cache poisoning attacks etc.
•Scans all devices attached to a network for issues and vulnerabilities.
•Does port scans, IP protocol scans.
•Provides detailed report.
OpenVAS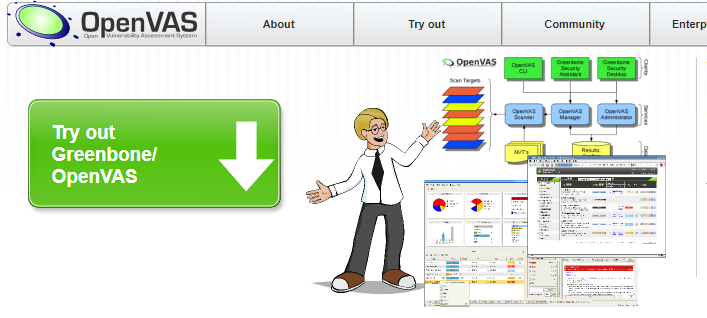 The key features-
•It's an open source network scanning tool.
•Many components of this tool licensed under GNU General Public License.
•Provides full network scanning, scans web server, web applications etc.
•Can be integrated with OVAL (Open Vulnerability Assessment Language) to write vulnerability tests.
•Its intelligent custom scan makes it a powerful network scanning tool.
•Identifies all kinds of security issues in all devices, servers etc.
•The scan engine is constantly updated with Network vulnerability tests.
Wireshark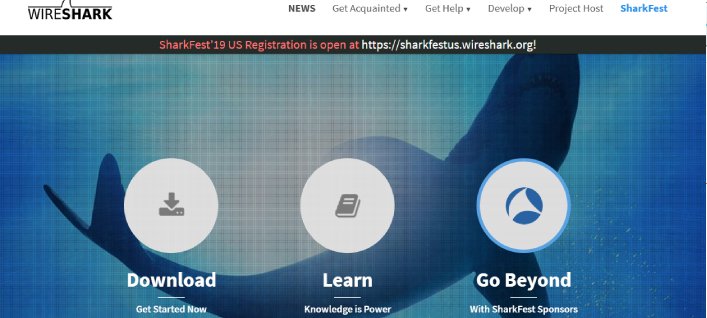 The notable features-
•Open source scanning tool widely used as network protocol analyzer.
•Runs on all platforms.
•Looks for issues online and does the analysis offline.
•Helps view network traffic and follow network stream.
•Shows TCP session stream construction and includes tshark.
•The networking checking happens at a microscopic level.
A big minus with Wireshark is that it has suffered from Remote Security Exploitation.
Nessus
Key features-
•Widely used network scanner that's available in three versions- Nessus Home, Nessus Professional and Nessus Manager/Nessus Cloud.
•Though a commercial software, a free version is available with limited features.
•Provides timely vulnerability assessment which prevents penetrations made by hackers.
•Detects issues that permit remote hacking of data.
•Has a web-based interface, client-server architecture and performs remote and local checks.
•Comes with built-in plugins, available with 70,000 plugins and functionalities/services including system configuration check, malware detection, web application scanning etc.
Acunetix

The features-
•Fully automated vulnerability scanning tool.
•Detects, reports over 50,000 known vulnerabilities and network misconfigurations.
•Does security assessment for routers, firewalls, switches, load balancers etc.
•Discovers open ports and running services.
•Looks for issues like badly configured Proxy servers, weak passwords, weak SNMP community strings, TLS/SSL ciphers etc.
•Provides comprehensive perimeter network audit.
Nikto
Features-
•An open source scanner, which performs various tests on web servers and looks for malicious programs, files.
•Checks HTTP/HTTPS/HTTPd servers, multiple ports of a web server and also looks for server configurations.
•Gives full HTTP proxy support.
•Scanning features updated automatically.
•Performs rapid testing, recognizes suspicious network behavior and detects network programs that can exploit network traffic for malicious activities, all in the least possible timespan.
•Provides detailed, customized reporting in XML, HTML and CSV formats.
•Looks for outdates server versions.
Angry IP Scanner

The features-
•Open source network scanning tool.
•Scans IP address, and does port scan also.
•Provides detailed reports in different formats- XML, CSV, Txt etc.
•Detailed report with all information- hostname, computer name, NetBIOS, MAC address, workgroup information etc.
•Works based on multi-threaded scanning approach, which includes having separate scanning thread for each individual IP address.
Qualys Freescan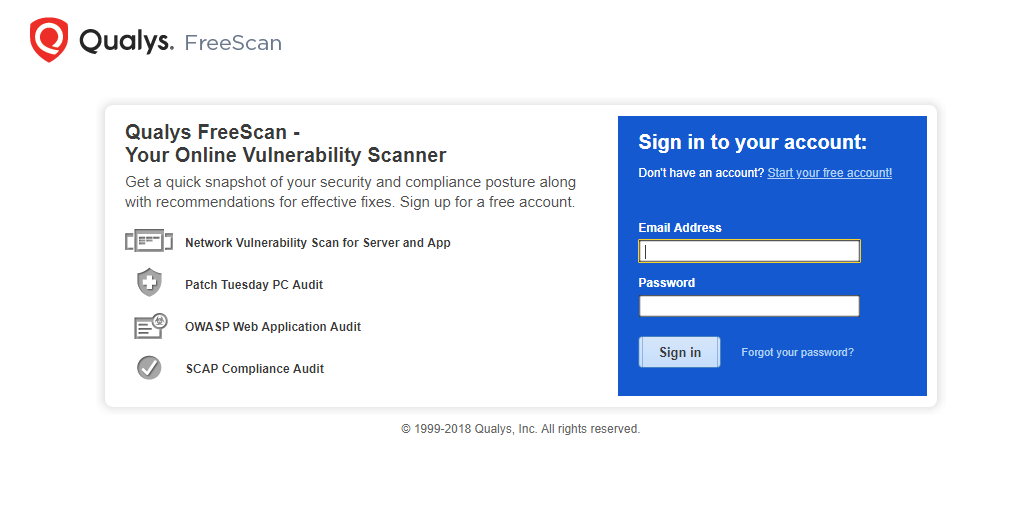 The features-
•Open source network scanning tool.
•Provides comprehensive scan for Internet IPs, URLs and local servers.
•Does vulnerability checks, web application security checks and SCAP checks.
•Detects all kinds of network issues and also helps in finding security patches needed to fix the issues.
The negative thing about this scanner is that it provides only 10 free scans and hence cannot be used on a regular basis.
Retina Network Security Scanner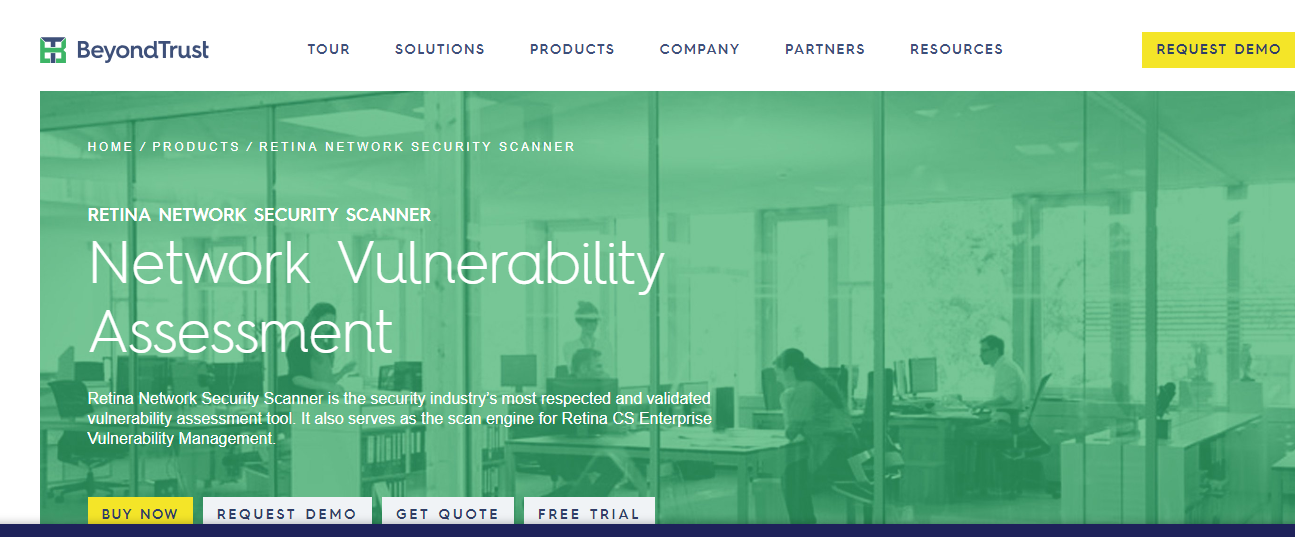 The key features-
•Standalone vulnerability scanner, does risk assessment based on optimal network performance, OS and applications.
•Free scanning tool with web-based vulnerability scanning console offering centralized scanning.
•Also provides security patch for Microsoft, Firefox and Adobe applications.
•Requires Windows server providing security patches free up to 256 IPs.
•Scans performed as per credentials provided by user, gives user the option to choose the type of report delivery.
•Works on multiple platforms, offers compliance reporting.
SoftPerfect Network Scanner
The features-
•Freeware network scanner.
•Advanced scanning features, including the highly effective Multi-thread IPv4/IPv6 Scanning.
•Collects info about local and external IP addresses.
•Performs tasks like remote wake-on-LAN and shut down.
•Scans all devices on a network.
•Identifies working state of all devices on the network.
•Collects and provides all kinds of information- hostname, computer name, MAC address etc within the LAN network.
Other good tools
There are other good network scanning tools like Nmap, Nexpose, Metasploit Framework, Fiddler, Advanced IP Scanner, GFI LanGuard, Snort, Xirrus Wi-Fi Inspector, OpenSSH etc.