What is Network Security and its Types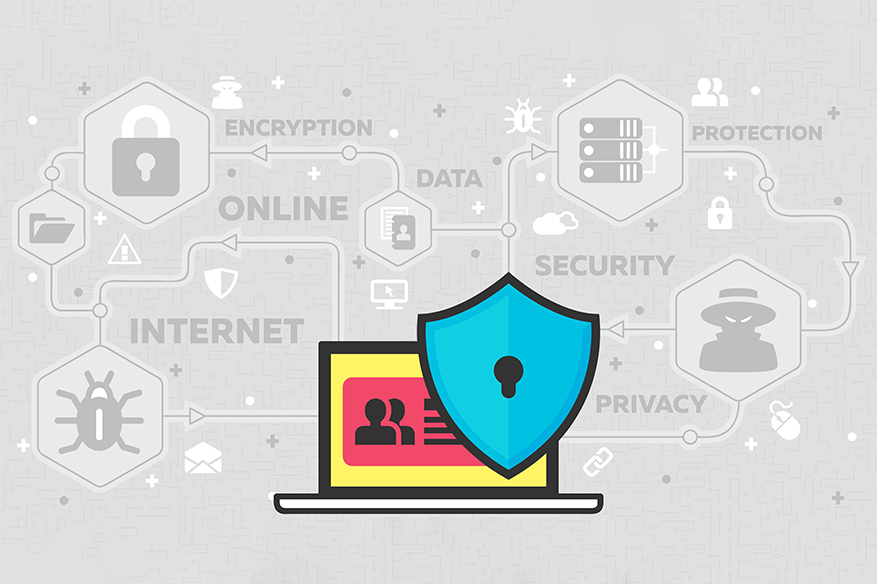 What is network security – it is one of the frequently asked questions in the IT world!
Network Security here refers to the computer network. A network as such is the interconnection of cables and other communications media, connectivity equipment such as switches and routers, electronic devices such as computers, printers, scanners, plotters, etc. They are all connected in the network for sharing data and resources.
Even though the employees get little benefitted by understanding what network security is, it is vital for corporate compliance officers, specialists in information technology, and business managers to have a thorough understanding knowledge. A business stores massive data of clients, customers, and processes; these pieces of information need to be secure and accessed by authorized personnel only.
Any loss or a security breach can question the action and policies of the company and jeopardize the business future. With the help of Network Security, businesses can secure and carry on the processes, confidentiality, and store client data to have it well protected.
Why Network Security
Any business on the online world needs to be protect the network because there are constant threats against the company's resources. It could be critical information or data about the employees and clients, or more importantly, about our products or businesses. In many cases threats arrive in the form of Viruses, Worms, and Trojan horses, Spyware and adware, Zero-day attacks, also called zero-hour attacks, Denial of service attacks, Data interception and theft, and Identity theft.
To thoroughly understand what Network Security is, it is essential to know how it works. Because there are a variety of threats, there is no single solution. We need multiple layers of security so that if one fails, the attacker would have to deal with the next layer.
Types of Network Security
Network security protects from all sorts of online dangers. It acts like a wall that wards off all kinds of hazards. One of the following types of network security or a few from the list may help or best-suit your organization's requirements. To begin with…
Antivirus and Antimalware Software
It is vital to understand the difference between a "virus" and a "malware." before opting for this security. The virus is a specific term defining a kind of malware which replicates and spreads across the network. However, malware is an umbrella term used for all types of malicious code. This includes viruses, worms, adware, nagware, Trojans, and ransomware.
So, what is the difference between Antivirus and Antimalware Software? Why purchase two different software? These are the fundamental questions that everyone thinks after knowing a simple fact. The simple answer to the question is as follows:
No technology can cover everything!
The anti-malware and antivirus detected only viruses, unlike the anti-malware software scan for malware and viruses on entry, it later removes the threat and fixes the damage.
Application Security
The application security software is intended to protect the holes of the application from the perpetrators. It chiefly tracks the method of finding an application's vulnerabilities continued by fixing and preventing them from any cyber-attack. It uses the software, hardware, and processes to keep your assets intact.
Behavioral Analytics
Behavioral Analytics is the use of software tools to identify a pattern change in the network. For further action, the analytics tools grab the anomaly and inform the concerned professional. Behavior-based malware detection systems watch out for signs that help to conclude that some aspects of a program as unauthentic and ultimately announce it to be malware. However, this approach is not enough to sufficiently guard a system and network from malicious attacks. Over the top, blending signature- and behavior-based detection helps the administrator to devise a more protective approach.
DLP
Data loss prevention (DLP) prevents end users from sending valuable or critical information outside the corporate network. DLP software products that help a network administrator control what data end users can transfer also prohibit the upload, forward, or sometimes to print significant data in an unsafe manner.
Email Security
Hackers make use of the email gateways to spread of malware, spams, and mainly phishing attacks. The social engineering methodologies make these threats seem authentic and sophisticated. At present, the user should also use anti-adware, antivirus software, anti-spyware, personal firewall, and software for browsing. This software is available on the market. An email application security secures the access and data of an email account by blocking incoming attacks and controlling the outbound messages.
Endpoint Security
Endpoint protection is more capable of handling device management and threat protection for Windows PCs, Mac, mobile devices, and servers, which pose as a potential entry point for security threats. In network security, it promptly secures all endpoints and blocks ransomware, zero-day threats, and other advanced attacks. The endpoint security or endpoint protection technology applies sophisticated multi-layered techniques which involve machine learning, emulation, and behavior analysis to achieve excellent protection against an extensive range of known and unknown threats.
Firewalls
Firewalls watch over the traffic of a website based on a set of predefined rules; it monitors both the incoming and outgoing ones. It acts as a fence that divides trusted networks from untrusted ones. It is designed to prevent unauthorized access to or from a private network.
IDS and IPS
Intrusion Detection System (IDS) software application watches out for malicious activity or a policy violation.
Intrusion Prevention System (IPS) is a prevention technology that scans network traffic flow to detect potential threats.
IDS is considered to be a monitoring system and IPS as a control system.
IDS Classification:
NIDS
Network Intrusion Detection System (NIDS) is an autonomous security management system that analyzes network traffic and monitors several pain points in the network using anti-threat software.
Host-based Intrusion Detection System (HIDS)
Host-based Intrusion Detection System (HIDS) works as an assistant comparable to antivirus software, spyware-detection programs, and firewalls, on the host system to monitor and analyze the activities and the state of the host.
MDS – Mobile Device Security
Mobile Device Security is created to shield data, either saved on or sent by mobile devices such as smartphones, laptops, and tablets. With more and more IT organizations shifting to BYOD for the business to grow, it is necessary to control the devices accessing a particular network.
NAC
Network Access Control (NAC) enhances the network by checking its access. Not every user is allowed to access the network; it blocks the noncompliant endpoint devices to save the system against potential security breaches.
Network Segmentation
Network segmentation technology classifies into subnetworks. Every network segments help in implementing more straightforward security policies and also helps in boosting performance.
SIEM
Security Information and Event Management (SIEM) is a mixture of Security Information Management (SIM) and Security Event Management (SEM). It ensures that all data is collected in one place for your security staff to recognize possible threats. This approach helps in responding to them quickly. Everything, such as the physical and virtual appliances to server software, can work as a SIEM product.
VPN
A VPN, or virtual private network, is a secure tunnel between a device and the internet. VPNs are utilized to safeguard online traffic from interference, snooping, and censorship. ExpressVPN can also act as a proxy, allowing you to mask or change your location and surf the web.
Web Security
Web security is also known as "Cybersecurity." It involves protecting the website or web application by detecting, preventing, and responding to attacks by determining the levels of user access. Websites and web applications are just as prone to security breaches as real homes, stores, and government locations.
Wireless Security
Wireless network security is the process of designing, implementing, and ensuring security on a wireless computer network. Since the advent of BYOD whereby mobile phones are used to accomplish office work, the access points have become another channel for security breaches. Wireless security makes it challenging for any unauthorized access to damage your computer's data.
Also Read,
Overview of Network Security Vulnerability Assessment
Wireless Network Security Assessment Guide