Firefox Send Set To Reform The File Transfer Service Market
For decades, people are using email attachments in order to send files to their intended recipients. However, using emails as a channel of transferring files across long distances is not safe, proof of this is the number of malicious file infection through ages using emails. File transfer services came into existence to meet the needs of users, with the growth of the cloud-storage services made such capability a mainstream.
However, file transfer services are transferring files using non-encrypted connection, which anybody can listen to with the right tools at hand (especially if done through Wifi). The tools to listen in an open wifi connection can easily be downloaded from the Internet, many of which are open source project themselves. Mozilla is set to change the file transfer market with their release of Firefox Send, a new player in the file transfer service.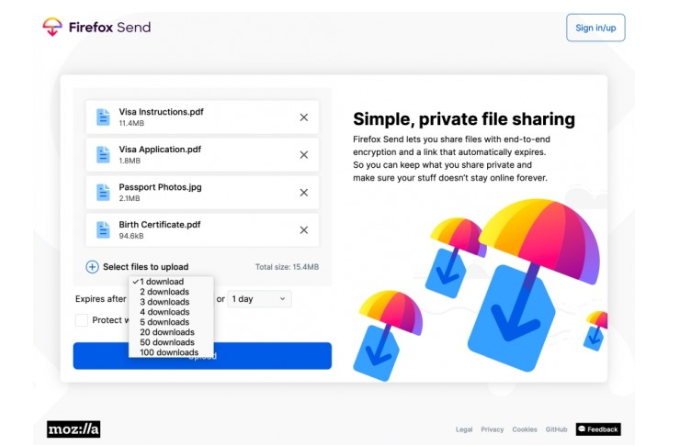 The following features are unique with Firefox Send, that will improve the security and privacy of file transfers:
Send files anonymously at a maximum of 1GB per file.

Send 2.5 GB file with a Firefox Send account.

Set expiration for file download availability.

Password Protect to open sent file.

Send files through a TLS connection.

Available Android App (currently in beta)
"Send is a free encrypted file transfer service that allows users to safely and simply share files from any browser. Additionally, Send will also be available as an Android app in beta later this week. Now that it's a keeper, we've made it even better, offering higher upload limits and greater control over the files you share. Send uses end-to-end encryption to keep your data secure from the moment you share to the moment your file is opened. It also offers security controls that you can set. You can choose when your file link expires, the number of downloads, and whether to add an optional password for an extra layer of security," explained Nick Nguyen, Mozilla Vice President for Firefox.
The recipient of files sent through Mozilla's system does not need to do anything special, he just need to click the provided link to download the files. Mozilla has created the service with the understanding to prevent it from being used to mass distribute illegal files (pirated stuff). There is a limit how many times the files can be downloaded, which will discourage the possibility of pirates using the service. Anyone sharing files through the service will not receive any income for 'adverts' displayed in the download page, this will also discourage people from profiting from a hosting a file, a technique by pirates to earn off the number of downloads of their warez.
"We know there are several cloud sharing solutions out there, but as a continuation of our mission to bring you more private and safer choices, you can trust that your information is safe with Send. As with all Firefox apps and services, Send is Private By Design, meaning all of your files are protected and we stand by our mission to handle your data privately and securely," concluded Nguyen.
Related Resources:
Firefox Monitor, Security Breach Email Checker Released to the Public
Firefox to Offer Users Automatic Protection Against Cryptocurrency Mining Malware