How to Choose the Best Endpoint Protection Software in 2021?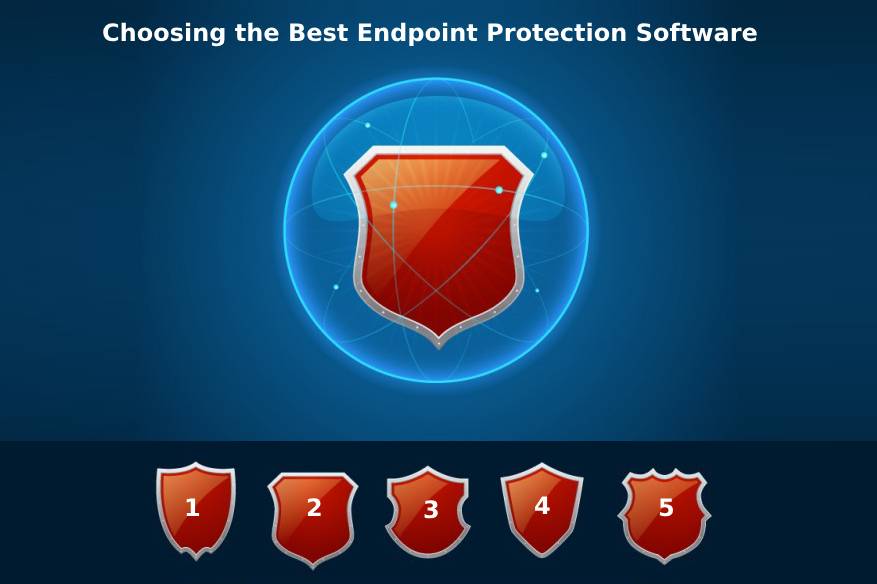 Endpoint Protection Software: An Introduction
Endpoint protection software is an integral element of network security and helps oversee/manage all devices that have access to a network. These devices, known as endpoint devices, are thus protected against all kinds of security threats with the endpoint protection software seeking to implement various security measures across multiple devices connected to a network.
A closer look
Endpoint security software usually provide a centralized, easy-to-manage interface that would let IT system administrators monitor and deploy all devices from a central console. The administrators can thus view and monitor all activity across all endpoints, run scans, generate reports and persistently safeguard the network against all kinds of threats.
Endpoint security applications are usually a suite of security tools, including firewall, antivirus, VPN etc. Whenever an endpoint device gets infected or compromised in any way, the endpoint protection software would send alerts and also suggest ways to resolve the issue. Endpoint security tools would even disable access from infected or suspicious devices, thereby seeking to protect the network. Details of the activities at that particular endpoint prior to termination of access would also be provided to the administrators, for analysis.
Endpoint protection tools, which are integral to network security and web security, can be adapted to users' needs, depending on device types, the operating system involved, the kind of websites accessed etc.
Why we need endpoint protection software?
We can definitely come up with a simple answer to the question, stating that since different devices connected to a network would bring with them various kinds of security threats, using endpoint security tools are a must. But let's elaborate on this a bit further and find out why we need endpoint security…
Data security, of course, is important for any business. Sensitive personal data of customer plus confidential corporate data needs to be protected, at all costs. Hence, all kinds of security software, including endpoint protection software, are needed for data security.
Endpoint protection software provides an enterprise with increased and improved security- by detecting issues with devices, spotting vulnerabilities, suggesting solutions to security issues, scheduling scans, scheduling updates, providing automation etc.
At the same time, endpoint security tools also help greatly in improving IT management, for any enterprise. These tools help standardize and manage antivirus tools for the different devices across a network. They also streamline and simplify the process of detecting and remediating compromised devices in a network. Thus, by centralizing different capabilities into a single platform, a centralized console, endpoint security software makes IT management much easier for enterprises.
Endpoint Protection Software: The Features
Provides device control – better management of all devices across a network.
Application control – Restricts or blocks the use of certain applications, monitors all applications.
Comprehensive web control – Ensures comprehensive web security by filtering websites, managing whitelisting etc.
System isolation whenever a security incident is detected.
Provides asset management features by keeping track of activities at on each network asset.
Provides firewall protection and does malware detection as well.
Reports incidents, alerts administrators of threats and potential issues.
Helps in compliance by monitoring all assets, enforcing compliance policies etc.
Aids endpoint intelligence by allowing examination and analysis of threat intelligence data at all endpoints.
Endpoint Protection Software: The Benefits
The key benefits of endpoint protection software, in general, are:
Helps fight data breaches, decreases risk of data breaches.
Helps employees in an organization securely access the enterprise network from anywhere with different devices.
Helps manage security policies from a centralized console.
Helps deploy security updates from a centralized console.
Does real-time scans, alerts IT administrators of infections and issues.
Ensures improved network security and web security and helps an enterprise function better.
The different kinds of endpoint security software
Antivirus software – The simplest, most commonly used endpoint security tool, which helps identify and block web-based threats and potentially dangerous programs.
Endpoint protection suites – A combination of capabilities of various subgroups in the endpoint protection category, seeking to protect a network against all kinds of threats and also to improve detection/response capabilities. Enhanced management capabilities and better visibility of existing and emerging threats are the advantages of using such suites.
EDR (Endpoint Detection & Response) Software – Helps analyze systems, looks for anomalies in a network and informs security personnel of threats. Helps maintain security standards within an organization and also simplifies remediation processes.
Endpoint Management Software – Combines patch management and network monitoring capabilities to serve as IT and endpoint asset management solution, provides improved administrative control over endpoints, enhanced security visibility, improved compliance through standardization etc.
Points to note
The choice of endpoint protection software always depends on the requirements of an organization and its network.
An organization, while choosing an endpoint security program, should first assess the manageability and scalability of the tool with the network in mind.
Choose an endpoint security program that doesn't in any way affect the resources of a network.
Check the administration and deployment functionalities, the accuracy etc and choose one that suits your business and organization.
Choose your brand, with care!
There are different brands available today – Comodo AEP, ESET, Symantec, Malwarebytes and so on. Hope this detailed discussion on endpoint security programs, their features, benefits et al would help you choose your brand. Just one thing that we'd like to say is- choose your brand with care. It is all about security- the security of your business, which directly impacts the future of your business!
Related Resources:
Endpoint Security-Related Issues that Providers Encounter
Endpoint Detection and Response